Results of the "My Perfect Alumni Programme" workshop
20.12.21
It was fun talking to you during the workshop about your ideas of the perfect alumni programme and here we have the results for the people, who could not participate. We will develop the RosAlInt alumni programme based on your ideas and demands for an alumni programme. Therefore, we are always happy to be in contact with you.
Your focus during the workshop was on two major topics. At the one hand, we had communications. Most of you did not recognize email as the most favourite tool for communication, because emails might be ignored or you do not see them, because you receive too many of them or they end up in the spam folder. Instead, you prefer to communicate on Social Media platforms. You have already mentioned Twitter, Instagram, Facebook, WhatsApp and Zalo. We will investigate this topic further, you will receive an invitation to a survey, where we will offer some platforms, and you can vote for them.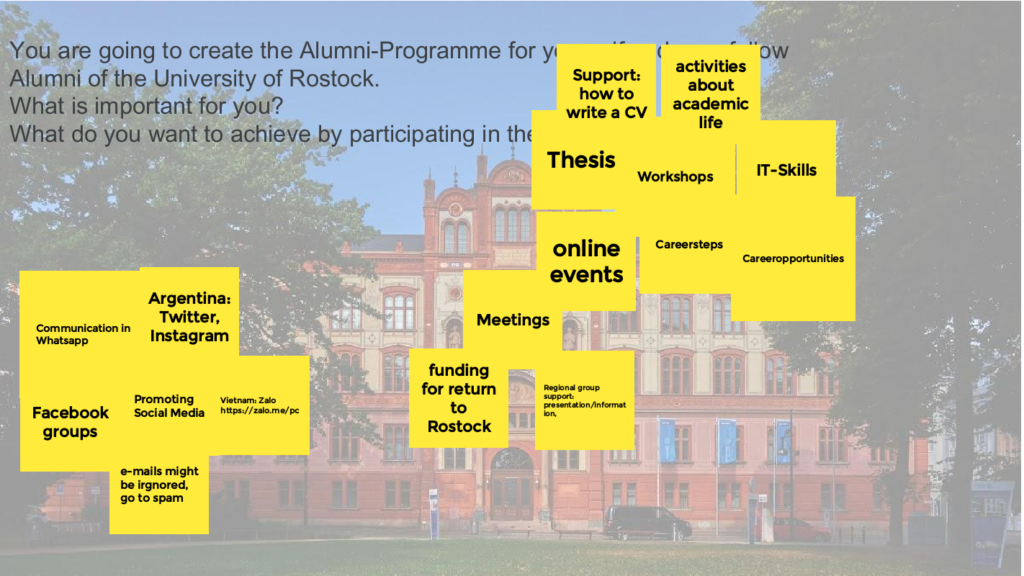 Another major topic were events and meetings. Of course, we would like to celebrate a big reunion in Rostock. However, some you of you already mentioned, that you would need financial support for such an event, if you are not already in Rostock. We will see what we can do about it. You are also looking for regional groups and opportunities to talk to each other. We will do our best to connect you to each other and help you to organise and meet in local groups. You also had plenty of ideas for workshops and they were mostly focused on your career. We have a Career Service at the University of Rostock and it seems, that they do not cover all topics you are interested in. We'll investigate this further and see, what kind of online workshops we can offer to you in order to further develop your career.